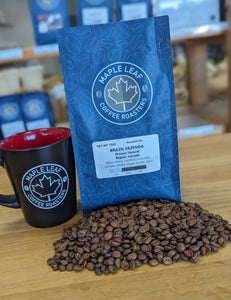 Brazil Fazenda Natural (Light Roast)
Regular price $13.79 Sale
This natural processed coffee from Brazil is sure to appeal to the African coffee fans and some light roast curious types too. It has a balance of flavors that you'd normally see in coffees from Central America, Africa and the Asia Pacific.
The coffee has a black cherry, caramel and chocolate feel along with nutty, cashew hints in the aftertaste. Because this is a Brazilian coffee, it will have a bit bigger body compared to other light roasts. There is a touch of an herbal spice flavor and a minor bite on the way down but not the same intensity as you'd see in an Ethiopian coffee.
WHERE THIS COFFEE WORKS
If you're looking to try a light roast and see how an African coffee would normally taste, this would be a great introductory coffee to try. African coffee fans will most likely enjoy this coffee too. It's not a perfect replacement for a sharp, light roast Yirgacheffe, but it will remind you of those coffees nonetheless.
MORE INFORMATION
Origin: Cerrado, Brazil
Processing method: Natural