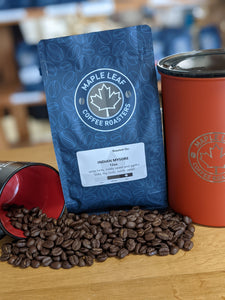 Closeout / Discount - Indian Mysore (Dark Roast)
Regular price $12.99 Sale
Closeout Pricing
We had some of this coffee held back from last season and are looking to move the last few pounds by offering it at a discount. Since it's got some age on it, it's less robust than it was when it was fresh. This Indian coffee is typically bigger bodied with a spice note or two, but with the age, it'll just lack some of that extra punch.

---
This dark roasted coffee has a curious set of spice notes found in a lighter roast but adds a smoother, less acidic taste.  This coffee has a bold, full bodied flavor coupled with a mild earthiness with a touch of sweetness to boot.  In other words, get ready for a very complex cup.
WHERE THIS COFFEE WORKS
If you're in the market for a big, bold coffee and are interested in trying a coffee off the usual path, this is a great choice for you.
SUGGESTED PREPARATION
This coffee will taste great in a drip coffee maker but if you have the time and really want to bring out the full gamut of flavors, go for a French press.