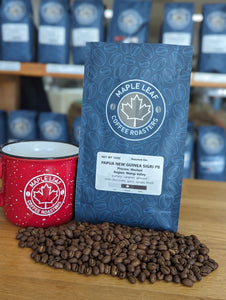 Papua New Guinea Sigri PB Washed (Medium Roast)
Regular price $14.99 Sale
A coffee from Papua New Guinea is always on the menu for the holidays and we're excited to feature one for the 2023-2024 season. This year we brought in a peaberry coffee which will give this a bit of an herbal spice kick along with the usual PNG flavors.
This medium roast coffee has all the classic PNG caramel, almond and buttery tastes along with a blend of sweet, nutmeg and brown sugar flavors. The peaberry beans also show off a mild earthy, herbal spice taste with a syrupy finish.
WHERE THIS COFFEE WORKS
This coffee has a medium body and low acidity which will make it an easy drinker for any occasion. If you're looking for a sweet but still rich coffee for a warm summer day, this is the coffee for you.
SUGGESTED PREPARATION
You'll like this coffee in either drip or French press.